EMBEDDIA Conference: AI Technology for the Media Industry
Wednesday 8th December, 9am to 2pm (CET)
Newsrooms increasingly use and rely on AI tools for automatic text processing. However, these are mostly developed for major languages and that limitation continues to be a challenge. New tools allowing high quality transformations between languages are urgently needed.
In a half-day industry conference that will be held online on December 8, 9am to 2pm (CET), you will have the opportunity to be the first to find out about tools developed within the EMBEDDIA project. EMBEDDIA is a Horizon 2020 funded project consisting of a large European consortium of partners from academia, media and technology. EMBEDDIA has developed tools designed for newsrooms, but also applicable to other text-based sectors based on cross-lingual word embeddings for less-represented languages.
During the conference we will demonstrate the EMBEDDIA Media Assistant which comprises a collection of tools for AI based text processing. Solutions for the following four tasks will be presented through concrete media industry cases: 1) comment filtering and hate speech detection, 2) keyword extraction, 3) article tagging via named entity recognition and linking, and 4) text generation in newsrooms. All tools will be available free of charge and released under open source licences.
There will also be a keynote by Professor Neil Maiden, Chief Product Officer, JECT.AI, about co-designing new technologies for journalists.
See the conference homepage for more details, schedule and registration.
EACL Hackashop on News Media Content Analysis and Automated Report Generation
The EACL Hackashop 2021 (February–April 2021) aims to foster discussion and research on the combination of language technology and news media content. The hackashop is a forum for both discussing scientific advances in analysis of news stories and their reader comments and in automated generation of reports, as well as for experimental work on identifying interesting phenomena in reader comments and reporting on them.
The hackashop implements a novel, dual format: a traditional track with paper submissions, reviews and paper presentations, and an active, experimentation-based track where hackathon-type online activities precede the workshop, and hackathon teams/individuals present their work in the workshop.
The main event of the hackashop is a workshop on 19 April 2021 in conjunction with EACL. The hackathon part was carried out online during 1–19 February 2021. See the hackashop home page for more information, including the proceedings with workshop papers and hackathon reports.
EMBEDDIA Consortium Meeting
The EMBEDDIA Consortium met again on December 2, 2020. Due to the COVID-19 pandemic, the meeting was online.
The consortium discussed the progress of the project and made plans for future work. It was a productive one-day meeting and a wonderful opportunity for the consortium members to see each other, even if it was only online. A snapshot of the meeting is available below.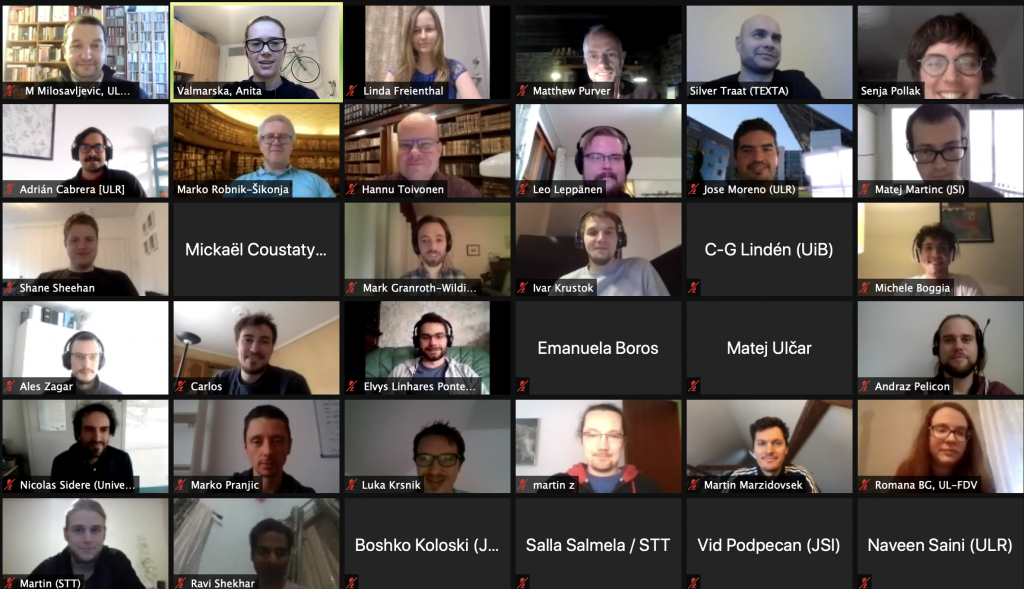 EMBEDDIA at 24sata
On November 12th, 2020, members of the EMBEDDIA consortium met with representatives from 24sata. In this meeting, we presented our solutions for some of the issues faced by the members of the 24sata newsroom.
The meeting was very productive — we were able to validate a lot of our solutions, as well as define directions for further improvement.
Due to the COVID-19 pandemic, the meeting was online.
On December 17th 2019, we organized an EMBEDDIA Open Day event at the Faculty of Electrical Engineering and Computing (FER) in Zagreb. The event was a success, presenting an excellent opportunity for project presentation and interesting discussions for future work.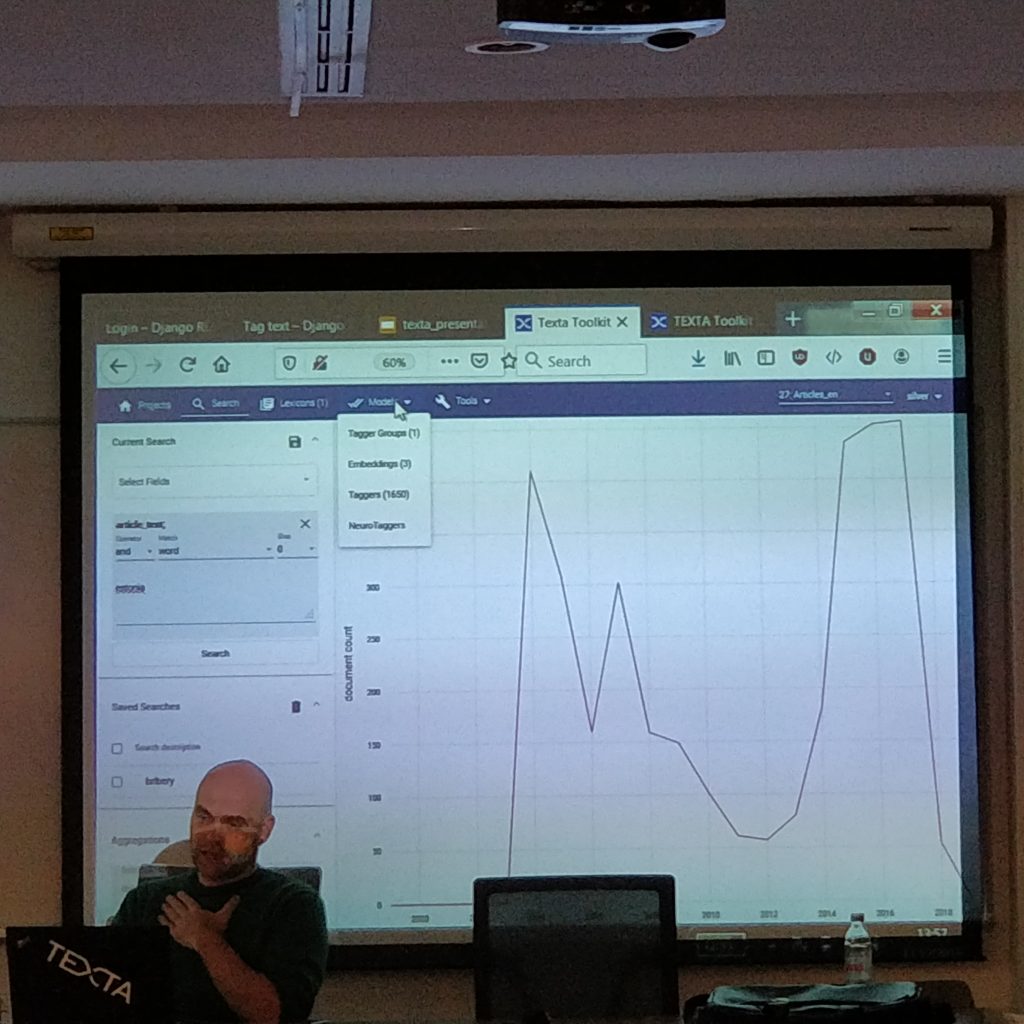 EMBEDDIA members visit to 24sata and Večernji list in Zagreb
On December 16th, 2019, members of the EMBEDDIA consortium visited the newsrooms of the two most popular newspapers in Croatia, 24sata and Večernji list.
EMBEDDIA partners meeting
December 16-17th, 2019, Zagreb, Croatia
The EMBEDDIA consortium met for a regular project meeting in Zagreb, Croatia. The meeting was very productive.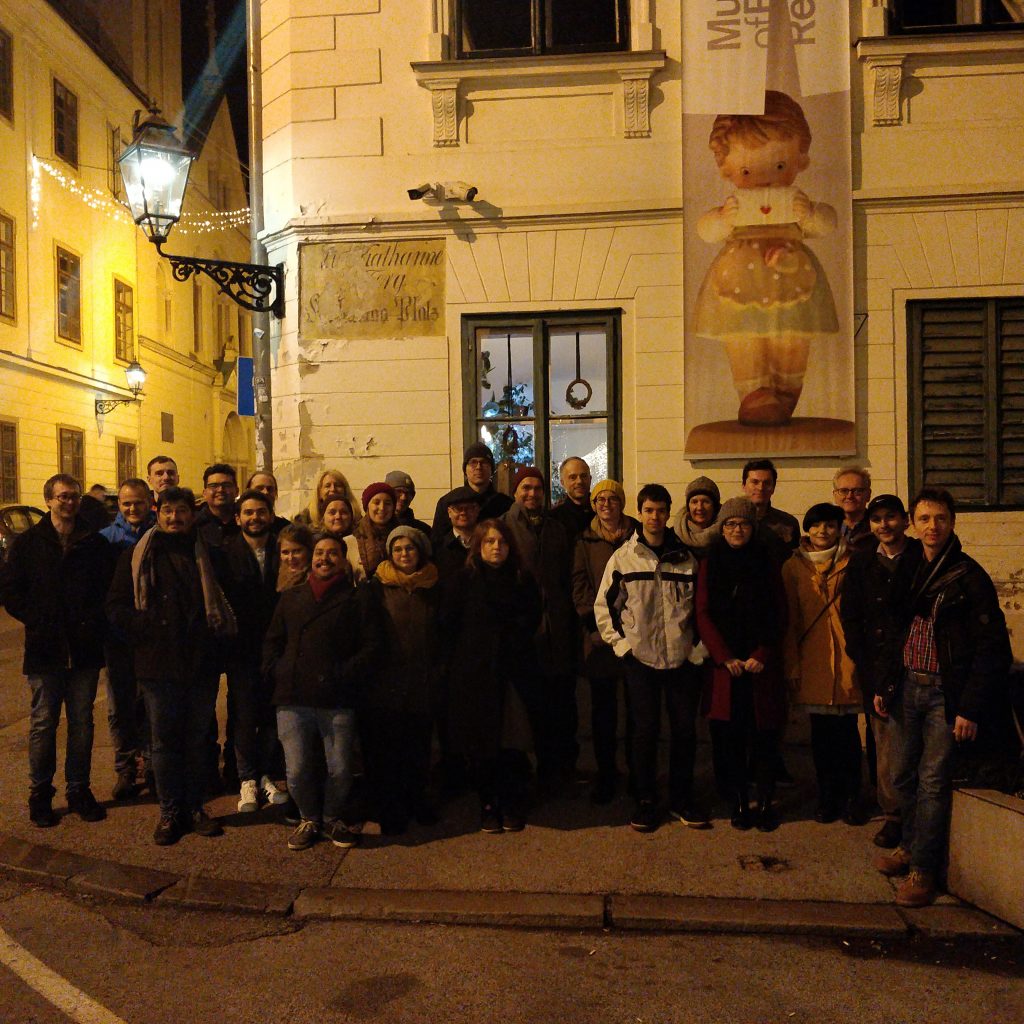 News Automation at Work – Practices and Perspectives Workshop
November 4-5th, 2019, Dublin, Ireland
EMBEDDIA partners organized the News Automation at Work workshop on November 4th and 5th at the DCU Institute for Future Media and Journalism (FuJo). The workshop focused primarily on the use of automated journalism, a new but critical development in the field of media studies.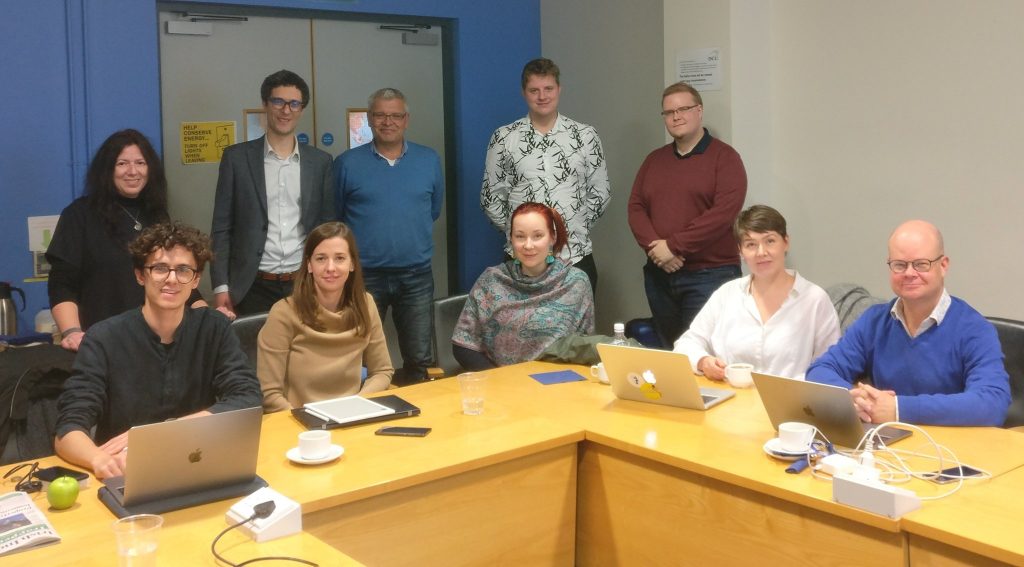 EMBEDDIA partners meeting
June 27-28th, La Rochelle, France
The EMBEDDIA consortium met for a regular project meeting in La Rochelle, France. The meeting was very productive.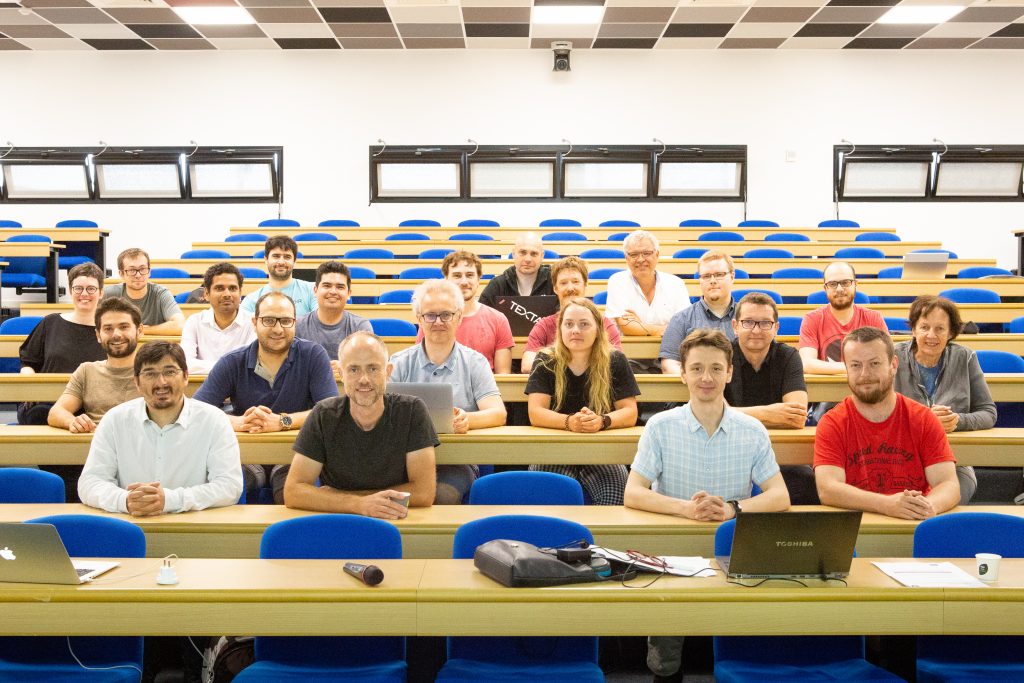 Presentation of EMBEDDIA at the European Youth Science & Media Days 2019
June 5th 2019, Strasbourg, France
Adjunct Professor Carl-Gustav Lindén from the University of Helsinki gave an invited talk and presented EMBEDDIA at the European Youth Science & Media Days 2019. The event was arranged by the European Science-Media Hub (SMH) and was organised on the premises of the European Parliament in Strasbourg. The audience consisted of around 80 journalists from all around Europe and the overall theme of the was "AI and journalism". In his talk, Carl-Gustav Lindén focused on human-machine interaction in journalism with a focus on automation. Lindén also underlined the importance of EU funding for long-term strategic innovation in important areas not otherwise covered, in this case, language technology for less-resourced languages.
Between Euphoria and Dystopia: AI, journalism, and perceptions in leading newsrooms
May 21st 2019, Toronto, Canada
Professor Marko Milosavljević from the University of Ljubljana held a public lecture in Toronto, at Ryerson University, on the use of AI in the newsroom and its relationship with journalism and the EMBEDDIA project.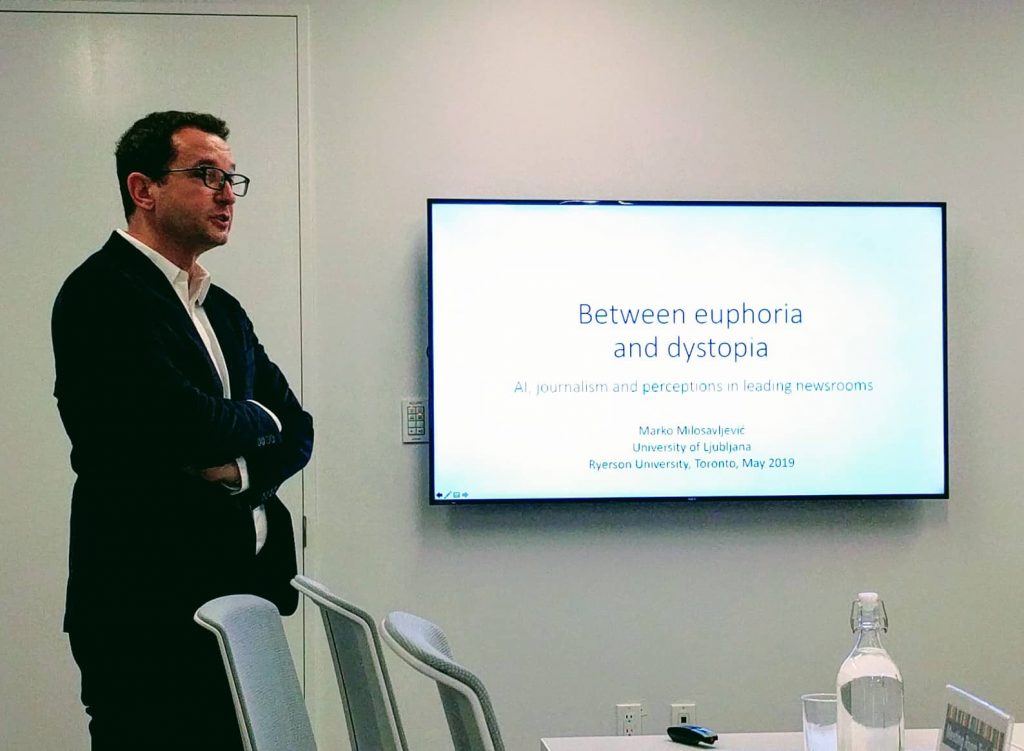 Showcasing Language Technology in H2020 and CEF Telecom Projects Workshop
26th April 2019, Brussels, Belgium
EMBEDDIA was presented at the "Showcasing Language Technology in H2020 and CEF Telecom Projects" workshop that was held on the 26 of April 2019 in Brussels.
The workshop introduced Digital Service Infrastructures and their stakeholders at Member State level to language technology related projects in the H2020 program and in CEF Telecom portfolio. This workshop was organized by DG Connect with the support of eTranslation (DGT) in the framework of the CEF program (SMART 2016/0103).
EMBEDDIA was presented during a 15 minutes oral presentation and during a poster presentation and discussion session allowing visitors of the workshop to get more detailed information about the project.
Workshop on Identification of media users' needs
12th – 13th March 2019, Tallinn, Estonia
The objective of the workshop was to identify the needs of media partners within the EMBEDDIA project and their integration within the project's tasks. The two-day event consisted of group discussions between researchers and representatives of the media partners. Discussions were organised on work package level, and focused on identifying use-case scenarios and their solutions, which are of interest for the media partners.
The workshop was successful. The meeting concluded with a meeting with editors from Ekspress Meedia newspapers and portals, and a visit to the Delfi AS newsroom (the biggest web portal in Estonia).